Curved Glass and special laminates
Curved glass has already established itself as a standard product in a variety of application areas. Curved glass is a sought-after product for balustrades, parapets, lifts and automatic doors.
On facades and in entrance and roof areas, curved glass is becoming increasingly popular as an eye-catching feature or identification symbol. FINIGLAS specialises in the most complex bending formats with curved architectural glass. Using innovative curve moulding technology, in addition to cylindrically and spherically curved glass, the company can now produce conical, aspherical and parabolic curves that can be further processed into IGUs with safety glass using additional finishing processes.
FINIGLAS not only bends glass with high precision and delivers excellent project management for architectural objects, the company is also a specialist for complex special laminates. Whether design, functionality or specific structural requirements: through our experience and contact to the world's best film manufacturers, we can meet practically any requirement when it comes to complex LSG products.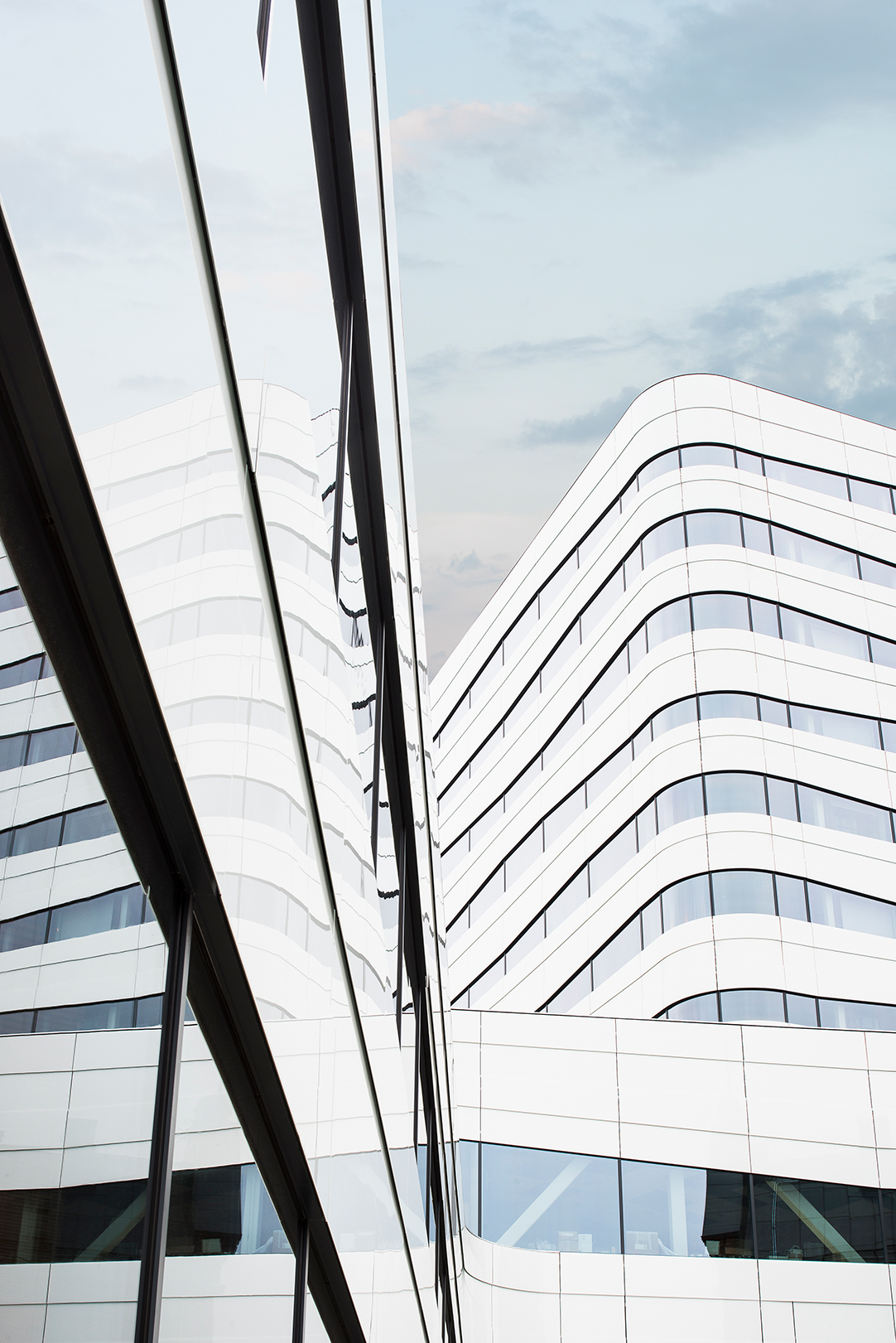 At FINIGLAS we embrace the ceaseless endeavour to achieve energy conservation through constant further development in the curved IGU segment. State-of-the-art thermal insulation and solar control coatings are firm fixtures of our product range. Curved facade IGUs for facades can be manufactured in all its variations up to a maximum dimension of 3200 x 6000 mm.
On facades with a relatively low glass proportion of less than 50 percent, where protection against the summer heat is not a consideration, the thermal insulation coatings FINI CURVE STAR 75/67, FINI CURVE STAR 79/58, FINI CURVE STAR 80/58; FINI CURVE STAR 80/60 and FINI CURVE STAR 74/65 guarantee an exceptional and comfortable room climate. By allowing a great deal of energy into but not out of a building, these product groups ensure the requirements of the German Building Energy Act (GEG) are met.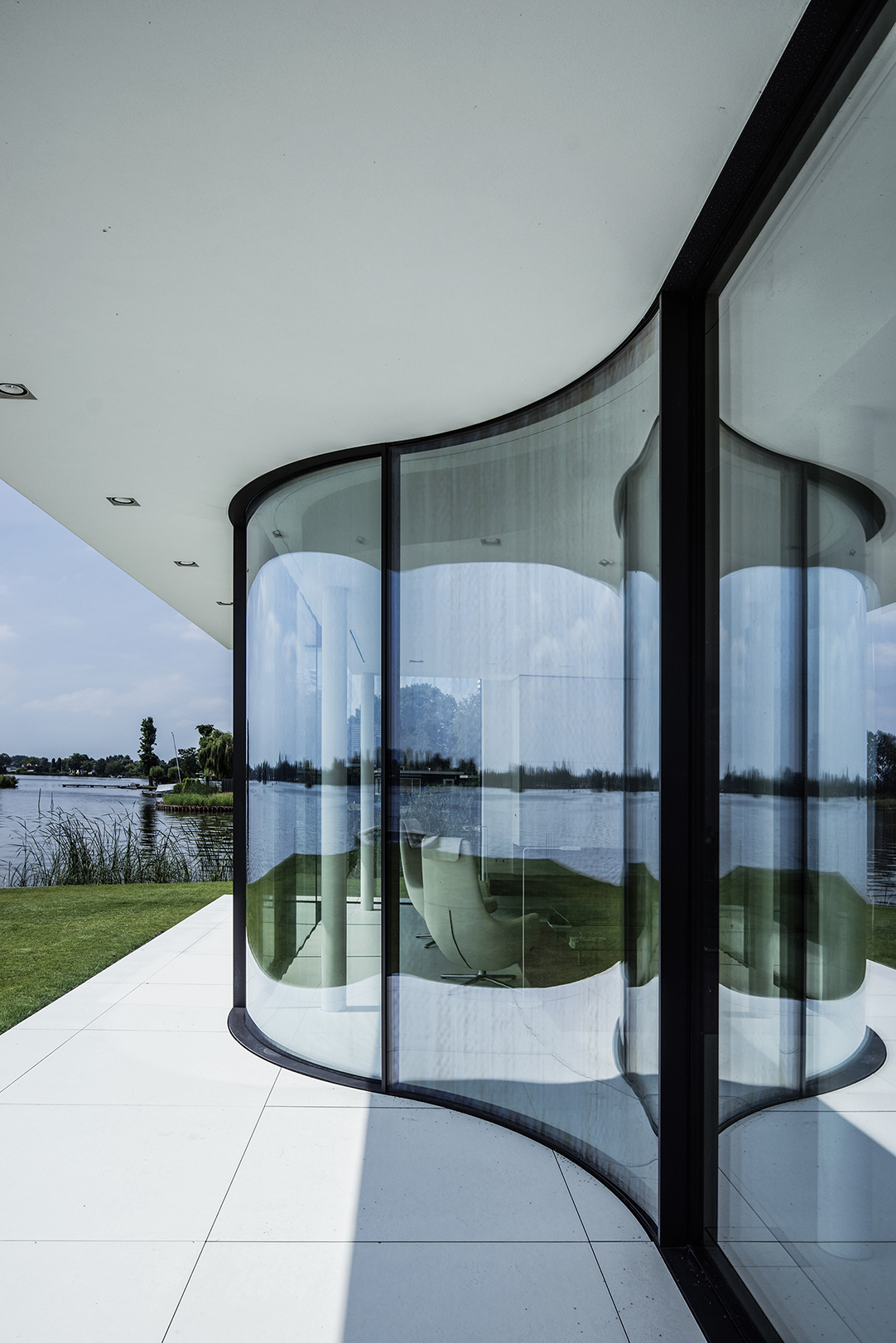 Developments regarding the various coating technologies have helped to create glass properties that have significantly expanded the range of application options for improving solar control glazing and thermal insulation glazing.
Solar control is a crucial factor for energy conservation. In warm regions or buildings with high internal loads, solar control glazing minimises heating due to solar energy and reduces glare. Our coated solar control glazing FINI CURVE SUN 50/31; FINI CURVE SUN 52/41; FINI CURVE SUN 60/40; FINI CURVE SUN 61/32; FINI CURVE SUN 62/34; FINI CURVE SUN 62/54; FINI CURVE SUN 70/37; FINI CURVE SUN 70/41 and FINI CURVE SUN 75/45 cover the entire spectrum.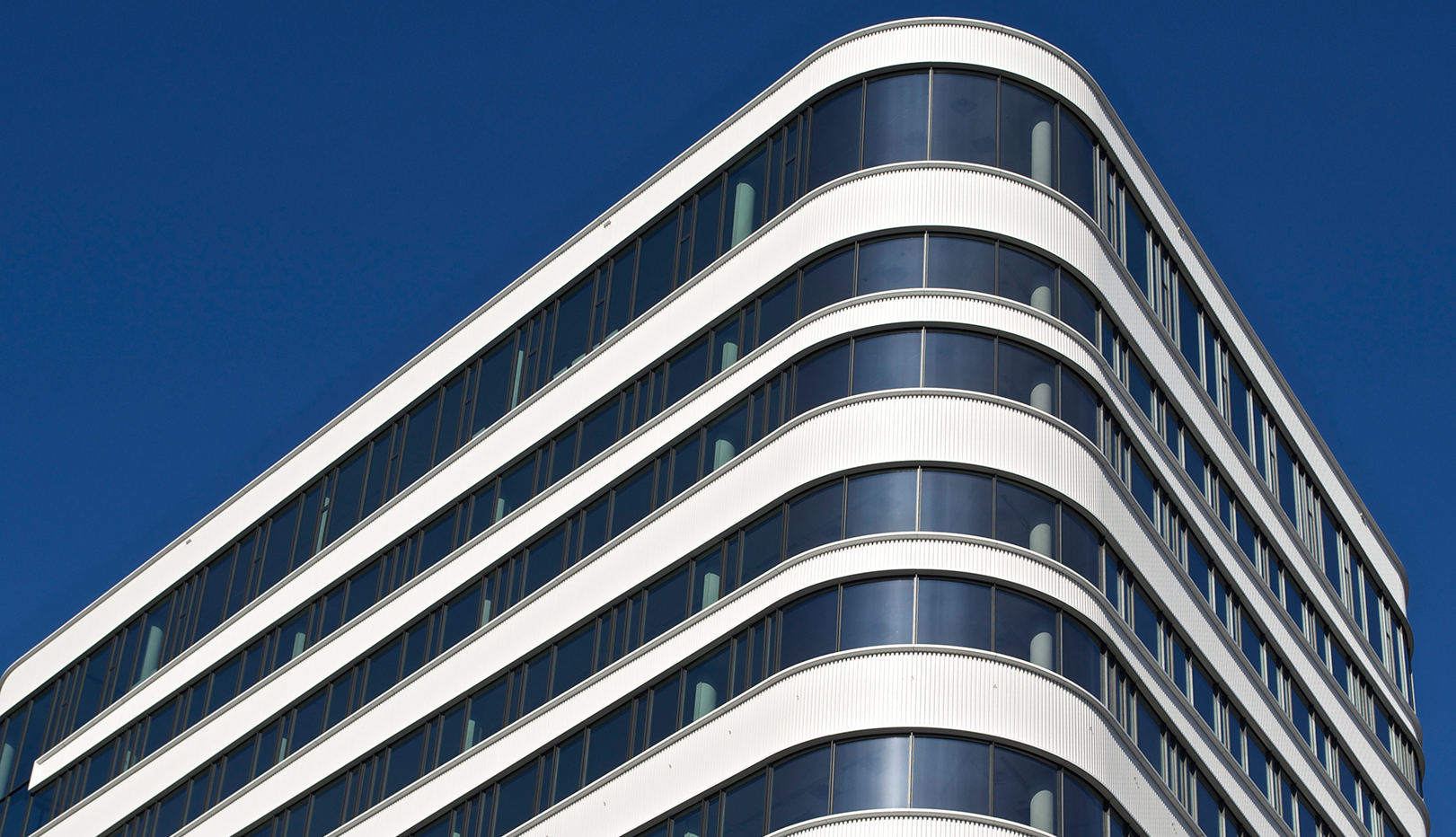 Thanks to our longstanding experience of curved glass and the associated qualifications we have gained, FINIGLAS can produce even the most difficult and unusual geometries using its sophisticated technology. Be it cylindrical, conical or spherical bending, in many cases the achievable is only limited by physics.
All manner of curved glass can be further processed to curved LSG using our autoclaving technology. Broadly known through the 'car windscreen' principle, the process of melding with an inlaid film is a response to increasing demands for improved safety. Whether for facades, lifts or roof glazing, we can produce curved IGUs up to the maximum dimension of 3200 x 6000 mm.
To create the laminated safety glass FINI Curve SentryGlas® individual glass panes are bonded together with SentryGlas® intermediate film layers. The resulting high degree of rigidity opens up an extensive range of applications. Larger dimensions and reduced weight are but two of the many benefits that this product offers in comparison to laminated safety glass using PVB film as an intermediate layer. FINI Curve SentryGlas® unlocks a range of new design options for architects and construction engineers.
Curved geometries are a permanent fixture of contemporary architecture, be it for interior applications or facades. We enable you to create design features with maximum dimensions of 2400 x 5000 mm and 3600 x 2400 mm, in consideration of the commensurate safety aspects. As in the float glass segment, this glass can also be further processed into curved LSG or IGUs using additional production phases.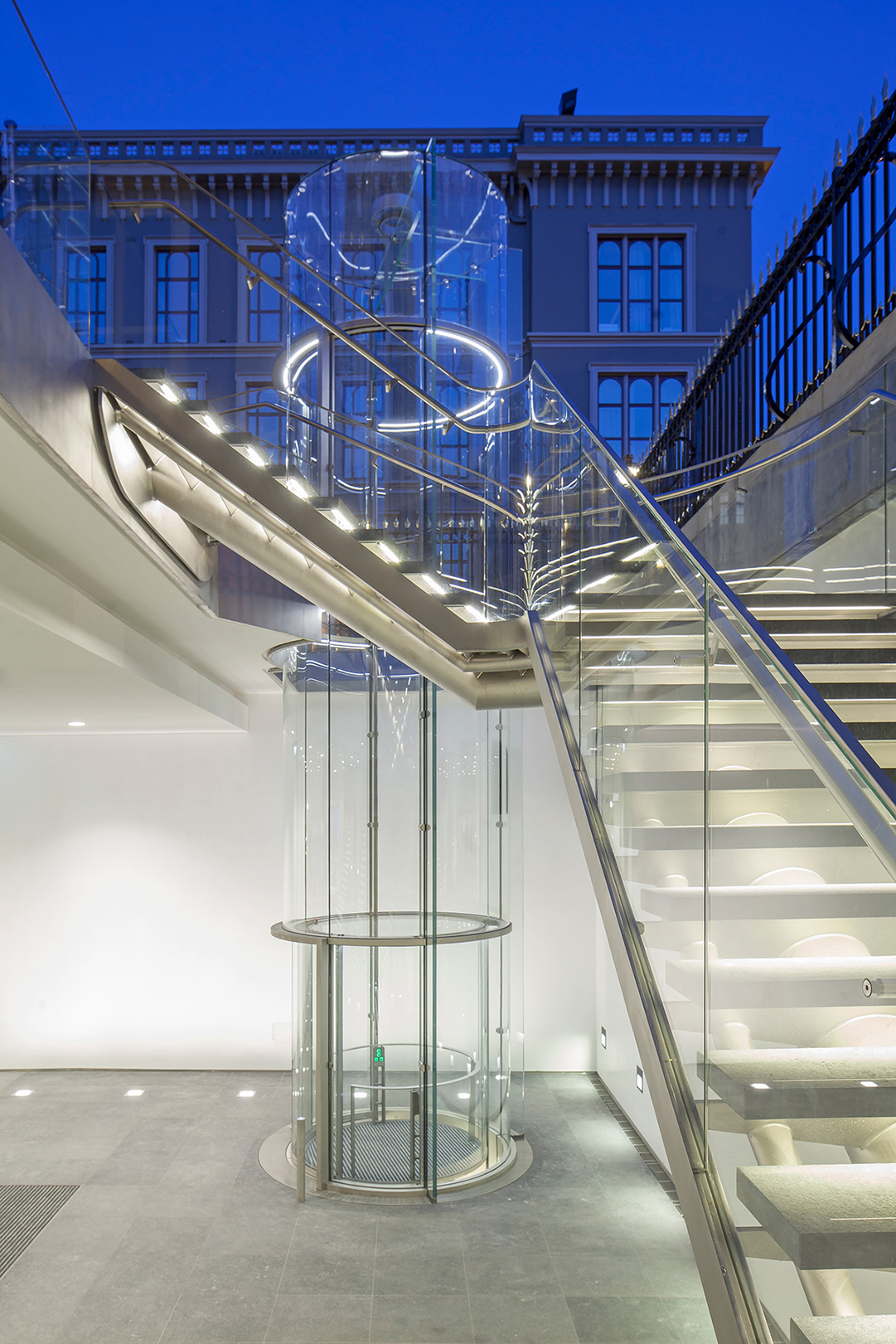 First Class Laminated Glass
FINIGLAS is now also channelling its longstanding experience of curved laminated glass into flat LSG and LG. Drawing on a network of strong, innovative international partners, FINIGLAS produces LSG for every imaginable structural and safety-critical application. In terms of the visual effect and impact of glass-film laminates, as a cutting edge manufacturer for facade and interior object glass design, FINIGLAS is the absolute forerunner amongst the top international float glass finishing companies.
Where others falter is precisely where laminated glass starts to get interesting for FINI. Large dimensions, XXL configurations, superlative performance with minimum glass weights, heavier configurations for even greater protection and complex structural, visual and functional requirements are basic bread and butter for our LSG specialists.
Download our brochure (German): "First Class Laminated Glass" (PDF)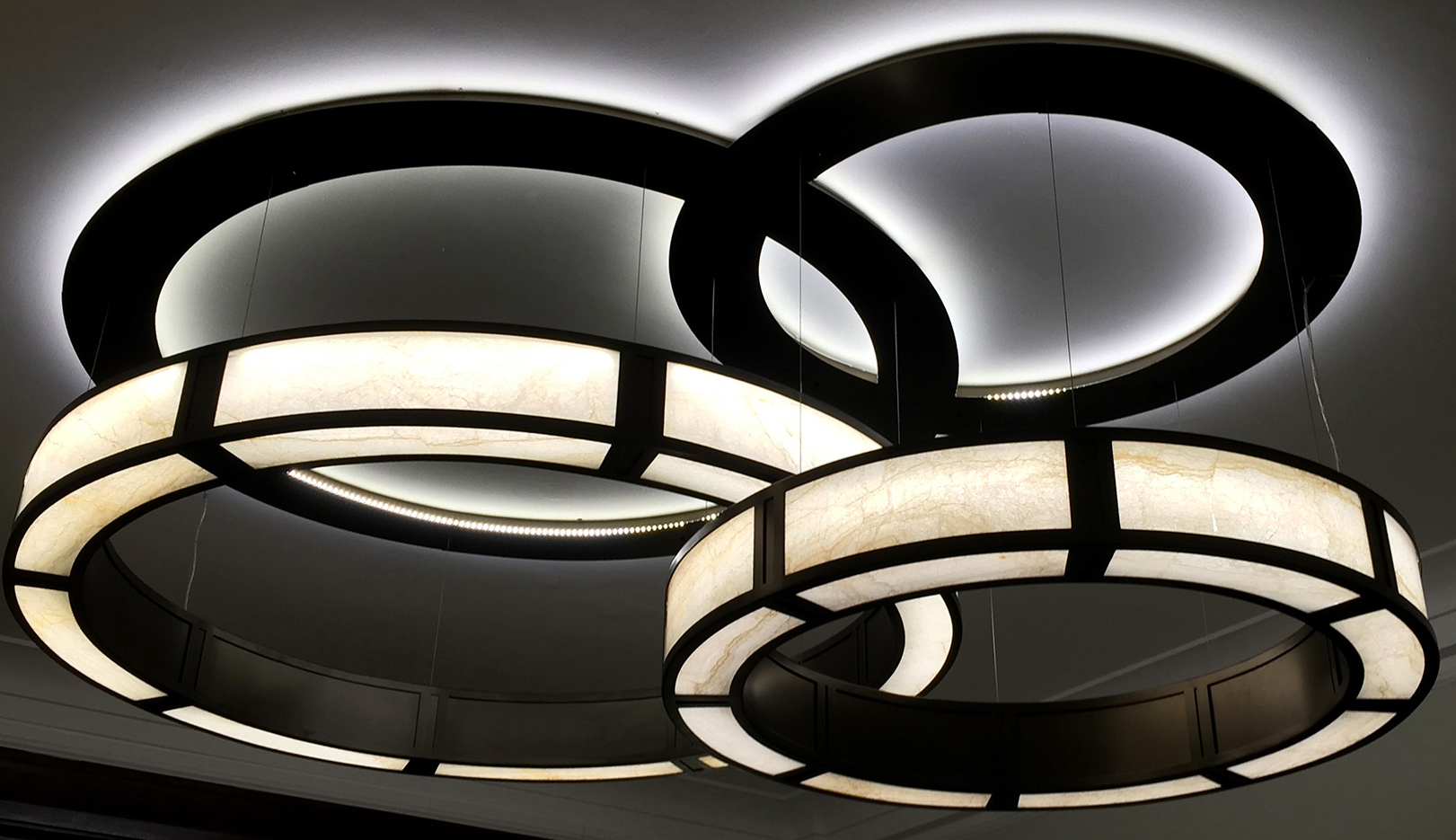 Australian embassy in London - Copyright and FINI partners: SEEN GmbH und LSE Lighting LTD
FINI Reflect
FINI Safe Design Extra White
FINI Stone
FINI Safe Diamond White
FINI Safe Design PVB Motiv
FINI Safe Design Vanceva
FINI Safe Bird Friendly
FINI Safe Sentry Natural UV
FINI Safe UV Extra Protect
FINI Safe Hurricane
FINI Safe Phone
FINI Safe P6B/P7B/P8B
FINI Safe Bulletproof
FINI Safe Extra Stiff
FINI X-Layer
FINI Safe SentryGlas